Direct Shuttle to Senami Onsen Spa
Access Map
A daily, non-stop route from Niigata Airport to Senami Onsen Spa began operating as of April 1, 2018. (No reservations necessary)
For the return trip (from Senami Onsen to Niigata Airport), please make a reservation in advance. Please make a reservation by 16:00 two days in advance.
Please see the following flyer(1,455KB) for more details.
Remarks
To ride, please come directly to the Senami Onsen Spa Shuttle bus stop.
Fare is paid at the time of boarding . (Cash only)
Times may be subject to change due to flight schedule changes, weather, transportation etc.
A second mini bus will become available once the first reaches capacity. Only two buses are available.
At times, User Surveys may be conducted for the purposes of marketing research. Your cooperation would be very much appreciated.
Pick-Up / Drop-Off places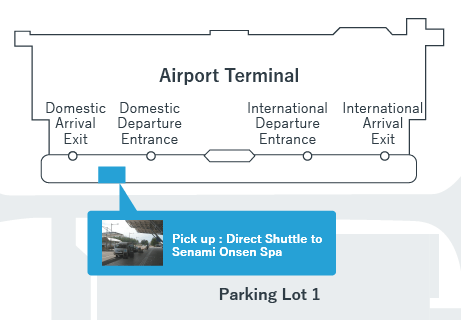 Niigata Airport