Direct mini-Shuttle to Sado Kisen Terminal
Access Map
A non-stop shuttle route between Niigata Airport⇔Sado Kisen Terminal (at Niigata Port) is currently in operation.
Timetable
2023.11.06~2023.12.31
2024.01.01~2024.01.31
Fares / Reservations / Others
Remarks
To ride, please come directly to one of the shuttle stops.
Fare is paid at the time of boarding. (Cash only, IC cards not accepted.)
Departure and arrival times may vary due to traffic conditions.
Passengers will be unable to board once the shuttle reaches capacity.
Route times may be subject to change.
At times, User Surveys may be conducted for the purposes of marketing research. Your cooperation would be greatly appreciated.
Pick-Up / Drop-Off places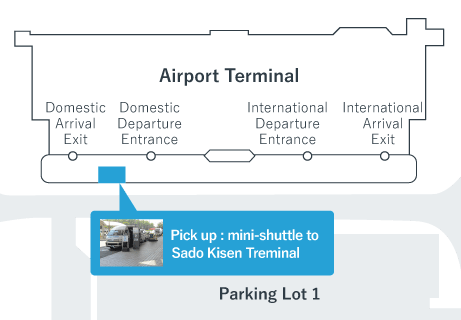 Niigata Airport
Sado Kisen Terminal